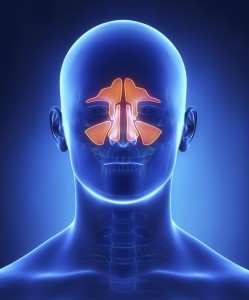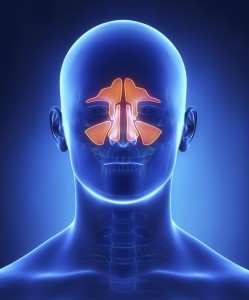 Our sinuses consist of eight hollow spaces in the bones of the forehead, cheeks and temples. Healthy, open sinuses are lined with sticky mucus to ensure that air going into the lungs is moist, warm and free from dust, dirt, and pollutants. Without these filters, lungs, kidneys and blood can become permeated with toxins from our environment.
In sinusitis or sinus infection, the linings are inflamed. The tissues become full of mucus and drainage is blocked. Increased pressure causes pain, swelling around the eyes, clogged nasal passages, chills, fever, dizziness and loss of appetite. Some people are more prone to this condition in the fall, especially with pollen, mildew, and mold allergies.
Patients often get some instant relief from sinus congestion with full spine Chiropractic adjustments and/or Acupuncture treatments. When your body is sick, tight, and run down, your lymphatic drainage is also slowed to a standstill. It is important to keep this lymph system flowing. Specific adjustments to restrictions in your spine along with soft tissue mobilization can encourage drainage for great relief of sinus congestion symptoms. The cranial bones of your head may also be manipulated to allow for relief of pressure in and around the blocked sinuses. It is very exciting when a patient receives an adjustment and is then able to comfortably pull in a full and effortless breath after days or even weeks of congestion.
I strongly recommend regularly taking a probiotic supplement or making your own fermented foods to keep your gut healthy which will in turn cure allergies of all kinds. I sell Kefir starter kits and demonstrate how to prepare fermented milk as a natural, sustainable probiotic superfood.
Other things to consider would be to eat raw honey as it "inoculates" your immune system to the pollens in the raw honey making it less likely for an immune response when you breathe them. Avoid nasal sprays that dry out your sinuses as they will prompt the mucosal membrane to just make more mucous. Be sure to stay away from cigarette smoke. Your diet can be a major culprit in chronic sinus problems. Avoid all dairy products, gluten-containing grains, sugars, flour, fried food, and salts because this will likely to make sinuses worse. When practicing eliminating potential allergens from your diet, a 2-3 week elimination period is necessary to allow the body to adapt.
Nasal irrigation with a neti pot may also be helpful. Daily hypertonic saline nasal irrigation improves sinus-related quality of life, decreases symptoms, and decreases medication use in patients with frequent sinusitis. A simple yet effective technique is to pour salt water solution into one nostril and let it run out through the other while the mouth is kept open to breathe, using gravity as an aid. Jala-neti, which means to cleanse the nose with water, is an old yogic technique. The container used to administer the saline is called a "neti pot".
https://baltuska.com/wp-content/uploads/2013/08/Sinus-Symptoms.jpg
300
249
Dr. Kelly Baltuska
http://kellybaltuska.thomaskepka.com/wp-content/uploads/2015/03/baltuska-300x234.png
Dr. Kelly Baltuska
2013-08-30 11:01:59
2016-04-21 22:13:56
Chiropractic Care for Sinus Congestion, Sinus Infection and Sinusitis