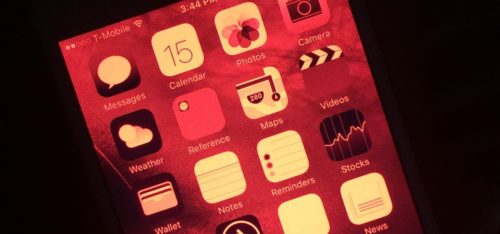 I know you're staring at your phone in bed so you might as well protect your eyes for better sleep. This blog is for Iphone users only. Other users must google search "Night mode" for their phone type.
You can use the Iphone Color Tint setting to turn your entire screen red. Red light is harder to see than other light frequencies, so it tricks our eyes into thinking it's less bright than it really is. This means that you can look at a red screen in a dark room, and your dilated pupils won't have to adjust as much to the light. Ultimately, the goal here is to reduce blue light exposure just before bed.
Normally, your brain starts progressively increasing the hormone melatonin around 9 or 10 pm, which makes you sleepy and keeps you asleep. Melatonin acts as a marker of your circadian phase or biological timing. By staring at you cell phone  just before bed, you are stifling your natural melatonin production, thus sabotaging your rest for the night. Ideally, you should discontinue using electronic devices at least an hour before bed, but many have developed habits of watching TV, laptops and computers, and cell phones even in their bedroom. 
Enable Red Tint
To enable this yourself, simply go to Settings > General > Accessibility > Display Accommodations. Here, you will touch the "Color Filters" option.  
---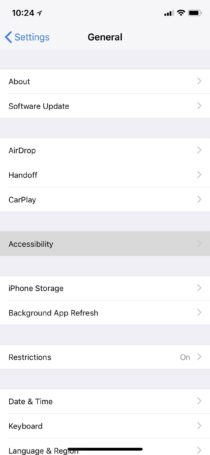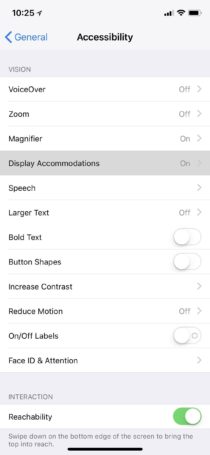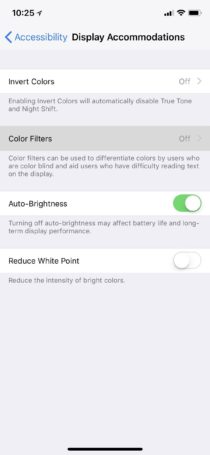 ---
Next, enable "Color Filters" with the switch at the top of the screen, then select "Color Tint" as your filter. From here, scroll down just a little further, then use the Intensity and Hue sliders to make the red effect more prominent. Both should be in the far right position for maximum redness.
---
                                     
---
Step 2 Add a Shortcut for Your Red Tint
It is pretty inconvenient to have to keep going through this process to toggle the red filter on and off so let's speed up this unnecessarily long process by enabling an Accessibility Shortcut to simply "triple-click" the Home button to toggle the red screen on and off instead.
To set it up, go to Settings > General > Accessibility, then scroll all the way to the bottom and select "Accessibility Shortcut." Choose the "Color Filters" option from the list, and you're done. Now every time you triple-click the Home button it'll switch between normal screen and red tint. Next time your laying in bed staring at your phone, just press primary circle home button 3 times quickly to activate your new red screen safe mode. Then in the morning after you wake up, repeat 3 clicks to return to normal.
---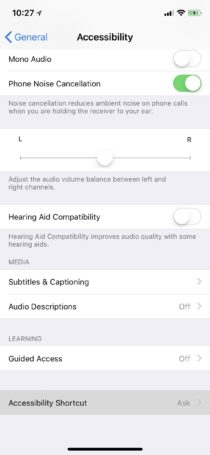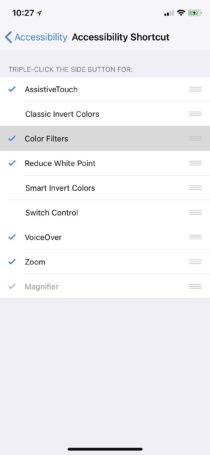 ---
The amount and quality of your sleep isn't something to be taken lightly. Many people give sleep too little priority on the list of things they do to be healthy. The consequences of a chronic lack of rest are much more serious and far-reaching than the vague feeling of fatigue you experience on and off during the day. Sleep is just as important to your overall health and longevity as good nutrition, and exercise.
Insufficient, poor quality sleep can undermine all your other efforts to lead a healthy lifestyle. Lack of sleep can set the stage for some very serious illnesses, including:
Changes in your brain activity similar to those experienced by people with psychiatric disorders

Entering into a pre-diabetic state

Weakened immune system

Faster tumor growth

Hormonal changes and fertility problems

Increased risk of cancer, heart disease, diabetes, and obesity
This is just one of many startegies that Dr. B recommends for better sleep. Checkout his previous sleep blog to learn more "Sleep Hacks"
https://baltuska.com/wp-content/uploads/2018/02/REDTINTIphone-e1518712811414.jpg
234
500
Dr. Kelly Baltuska
http://kellybaltuska.thomaskepka.com/wp-content/uploads/2015/03/baltuska-300x234.png
Dr. Kelly Baltuska
2018-02-15 18:27:03
2018-02-21 17:31:19
Slick Trick for Better Sleep (Iphone only)