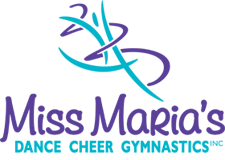 Print this new patient referral document and sign the name of your performer for a $20 donation toward her/his national competition this year.
Competitive dancers and gymnasts work hard to perform their very best. These athletes endure some very strenuous physical demands and they have specialized needs when caring for their injuries. Repetitive strain on muscles, ligaments, tendons and bone can take a toll on the athlete. Whether your child is a new dancer or elite they can benefit from chiropractic care by recovering faster from injury and even performing more optimally for the competition. Dr. Baltuska understands the intensive training that gymnasts perform and he treats each athlete with specialized care for their injury or condition.
My daughter Lydia has been dancing and performing with Miss Maria's Acrobat & Dance for 7 years! She loves going to her classes and really appreciates how her spinal adjustments can help her perform her best.
These days it's far more common that not for athletes, gymnasts and sports teams to keep chiropractors nearby to help prevent injuries, speed injury recovery, improve balance and coordination, and give them a greater competitive edge.
Here is a video of a great chiropractic testimonial with Olympic Gold Medal Gymnast, Nastia Liukin:
http://kellybaltuska.thomaskepka.com/wp-content/uploads/2015/03/baltuska-300x234.png
0
0
Dr. Kelly Baltuska
http://kellybaltuska.thomaskepka.com/wp-content/uploads/2015/03/baltuska-300x234.png
Dr. Kelly Baltuska
2013-09-18 11:53:30
2016-09-20 19:23:27
Miss Maria's Acrobat and Dance Studio Fundraising Opportunity with Baltuska Chiropractic