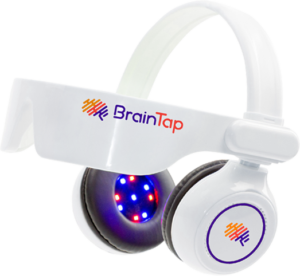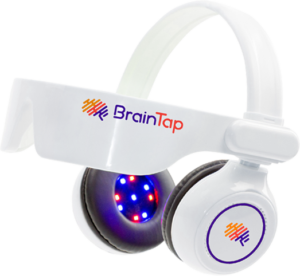 Braintapping is a quick and easy way to relax, reboot and revitalize by optimizing your brain's peak potential. Backed by neuroscience and research, braintapping is proven to help people who experience high stress, difficulty sleeping, low energy, and other lifestyle challenges. Braintapping guides your mind from an awake, reactionary mind into an intuitive, creative state, then to a place where super-learning and healing can occur, with the outcome being a heightened state of consciousness with crystal clear focus. 
Braintapping creates a symphony of brainwave activity, a feeling of calm focus that's just right for learning and productivity. Each session is designed with brainwave balance in mind.
Unlike guided audio meditation programs, BrainTap's exclusive neuro-algorithms gently and naturally guide your brain through a broad range of brainwave patterns, instead of just the Alpha state. The result is a complete spectrum of brainwave activity.
The calming, rejuvenating effects of just 10 to 20 minutes of braintapping serves to balance your nervous system and inoculate you against the stressors of everyday life. Daily braintapping trains your brain to be resilient and creative, and it activates the right mental states at the right time. In other words, you become your best version of you!
The BrainTap Headset brings a whole new dimension by adding the restorative power of light frequency therapy. In addition to the sonic effect from the audio speakers, the headset also delivers gentle light pulses that travel through the ear meridians and the retina, sending direct signals to the brain and guiding you into extraordinary brain states that would otherwise take years of disciplined effort to achieve.
When two different tones, separated in frequency by only a few Hertz, are introduced — one in each ear — the brain perceives a third, unique tone. Binaural beats work by creating this phantom frequency, which the brain then mimics. For example, if we play a 220 Hz carrier tone into the left ear and a 226.5 Hz carrier tone into the right ear, your brain perceives the difference between the two, which is a subtle beat frequency of 6.5 Hz, the same frequency associated with deep, meditative states. Your brain naturally follows this frequency, and you experience this deeply relaxed state.
Pulsing light, in the correct pattern and intensity, can produce levels of deep relaxation known to affect serotonin and endorphin levels, with an average increase of 21 percent in one study. These increases not only can calm and relax the mind but also produce powerful effects in maintaining a positive outlook and optimistic thinking.
We invite you to try the BrainTap Headset at your next visit to Baltuska Chiropractic for just an additional $10 added to your acupuncture treatment or therapy bed or $20 to simply experience BrainTap itself  Schedule your appointment online now using this link

Read more about the BrainTap headset here www.braintap.com
https://baltuska.com/wp-content/uploads/2020/06/img-Headset-b-300x276.png
276
300
Dr. Kelly Baltuska
http://kellybaltuska.thomaskepka.com/wp-content/uploads/2015/03/baltuska-300x234.png
Dr. Kelly Baltuska
2020-06-18 23:16:00
2020-06-23 18:25:29
Now Offering BrainTap Headset!