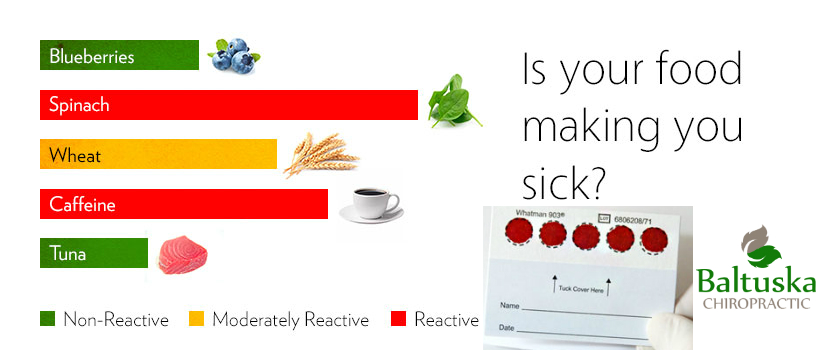 Now Offering Food Allergy and Hypersensitivity Lab Testing
I have witnessed the profound impact that diet has for myself, my family, and my patients. It is important to share this knowledge with everyone so they may find answers to many different health concerns. I am pleased to have found a wonderfully efficient and affordable lab that allows me to offer this service to my patients. Furthermore, I don't have to ask you for a full vile of blood and instead can perform a simple finger prick to collect a few dabs to mail in to the lab.
IgG (immunoglobulin G) testing is a useful guide for structuring elimination diets in many chronic conditions. Individuals with neurological, gastrointestinal, and movement disorders often suffer from IgG food allergies. These people may continue to eat offending foods unaware of their potential effects. As immunological reactions, the alternative "IgE" food allergy causes the release of histamine, producing an immediate hypersensitivity reaction, in which symptoms appear within minutes or hours. In contrast, food sensitivity is a non-IgE allergy characterized by the measurement of "IgG" antibodies specific to antigenic food proteins. This IgG food allergy is a delayed hypersensitivity reaction in which symptoms appear anywhere from hours to days after eating the offending food. The 93 foods tested in the IgG Food Allergy Test can identify problem food so it can be eliminated from the patient's diet. Elimination of IgG positive foods can improve symptoms of irritable bowel syndrome, autism, ADHD, cystic fibrosis, rheumatoid arthritis, epilepsy, migraines and other headaches, chronic fatigue, skin conditions, behavioral and mental health conditions, insomnia and trouble sleeping, and much more.
In addition to foods, this same test also searches for Candida, a yeast overgrowth. Candida problems are caused when the benign yeast form of Candida albicans mutates to its fungal form. Candida can take over sections of the intestinal wall causing numerous symptoms. As it grows out of balance it produces toxins that create holes in the intestinal lining, leading to leaky gut syndrome. After entering the blood, Candida albicans causes an inflammatory immune system response. A wide range of disorders have been linked to Candida including autism, multiple sclerosis, depression, and chronic fatigue. Use of antibiotics, oral contraceptives, chemotherapy, and anti-inflammatory steroids greatly increase susceptibility to Candida.
The cost of the blood spot collection at Baltuska Chiropractic is $50.
The cost of the lab processing is $325. 
Call 913-283-9803 or schedule your Chiropractic Adjustment online using this link
http://baltuska.com/wp-content/uploads/2016/11/food-sensitivity-test-banner.jpg
350
820
Dr. Kelly Baltuska
http://kellybaltuska.thomaskepka.com/wp-content/uploads/2015/03/baltuska-300x234.png
Dr. Kelly Baltuska
2016-11-18 19:21:17
2017-04-11 23:24:30
Now Offering Food Allergy and Hypersensitivity Lab Testing