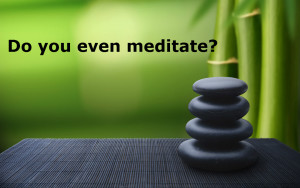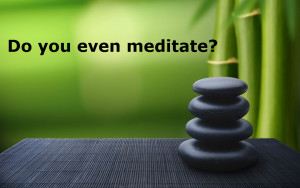 Meditation class (20 minute audio) link to dropbox here: Daily Meditation
Meditation is not just for the spiritual hippies and you don't have to practice it for years to experience the benefits. Simply drop your thought and focus on your breath and you nailed it! Now you can diversify as you please from a simple breath cycle in your car at a stop light to a 20-minute peaceful rest in a comfortable atmosphere. The benefits of meditation are far reaching in physical, mental, emotional and spiritual health. Research continues to support its efficacy in all areas of the human condition.
---
Don't knock it till you try it!
If you are not comfortable sitting quietly with yourself, how do you expect anyone else to be comfortable in your presence?
If you are a "high performer" in constant need of tasking, efficiency, and crossing things off your to-do list, then you might criticize: "what a complete waste of time!" Trust me. After you give meditation a fare chance, you will easily understand how it will improve performance in all areas of your life.
If you have meditated before and it didn't do anything for you, maybe you tried too hard. There is a subtle "letting go" that is important with meditation. Just like over-thinking the correct bio-mechanics of your golf swing will likely force you to slice the ball into the sandpit. Keep it simple and just hit the ball with the stick.
---
Tips for beginners:
Find a quiet, safe place where you are unlikely to be interrupted by other people or noises.
Do some light stretching and deep breathing as you settle into a comfortable seated position.
Scan your body for areas of tightness and relax them.
Gently close your eyes and focus on breathing a deep, slow, relaxed breath.
Find a place in your mind between your thoughts to rest in. As a new thought pops up, let it pass by without becoming distracted by it. Do not criticize yourself because of these thoughts. Do not judge yourself because of impatience, distraction or irritability.
Classes to be announced at Baltuska Chiropractic.
Please join us for a free transformative evening of guided meditation. We will start each week with a short 5 to 10 minute video detailing our instructions for the following week's daily meditative practice. Then we will peacefully enjoy a guided (20 minute audio) recorded group meditation together. I'll invite you to repeat this 20 minute audio daily on your own until the following week's event where we will then watch the next video and repeat over the course of 9 weeks. This is great for beginners and professionals alike. You will likely discover wonderfully insightful things through self reflection wether you decide to drop in for one session or follow-through with the entire course.
The science on meditation is clear: When practiced for as little as 20 minutes a day, meditation reduces depression and anxiety, lowers blood pressure, alleviates insomnia, increases mental clarity and focus, instills a sense of peace and much more. The challenge is that many people do not know how to effectively meditate, including, in some cases, those who have meditated for years
The video and audio is shared with us from international teacher, Joey Klein. Combining the ancient wisdoms of East and West with the latest science in genetics, psychology and brain function, Joey shares how to transform your life by shifting deep mental, emotional and physical patterns that create stress and limit success. Joey describes what is possible for people that want to see fulfillment in all areas of life – relationships, health and well-being, and career.
More inforation at:
joeyklein.com
Here are a few short YouTube clips that highlight the research demonstrating the many benefits of meditative practice:
Max Lugavere: https://youtu.be/y2S4tZxHtWw
Dr. Oz: https://youtu.be/bb5OOO_0HXs
Ted Talk: https://youtu.be/m8rRzTtP7Tc
You can incorporate prayer and/or EFT tapping into your routine as you please for even better results! Read more about EFT at this link: Emotional Freedom Tapping Technique (EFT tapping)
In good health,
Kelly Baltuska, DC
http://baltuska.com/wp-content/uploads/2015/05/do-you-even-meditate.jpg
188
300
Dr. Kelly Baltuska
http://kellybaltuska.thomaskepka.com/wp-content/uploads/2015/03/baltuska-300x234.png
Dr. Kelly Baltuska
2015-05-12 10:01:42
2017-08-30 18:23:27
Do You Even Meditate?